Additional Festival Highlights ~
Opening Festivities ~ Tea Room ~ Marketplace ~ Say Something in Welsh ~ Late Night Singing ~ Welsh Round Table and more.

---
Open Air Welsh Fair ~ Wednesday, August 30, 2023. 5:00pm - 8:00pm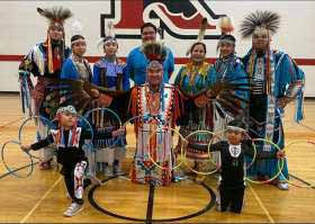 Plan to arrive in Lincoln, Nebraska on Wednesday and take in a special event. We have permission to close the street in front of the hotel and hold an open-air Welsh fair. A stage will be set up and the hotel will provide food for sale. Plans are still under way, but we will offer local entertainment in addition to a taste of what's to come from our Welsh musicians; Welsh food and other fare; and possibly vendors from our Welsh marketplace.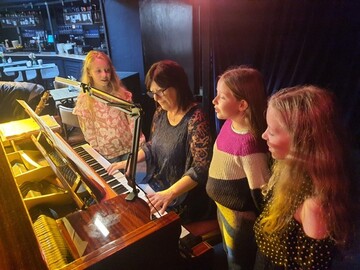 Triano, formed during the pandemic in 2020, is made up of triplet sisters Charlotte, Jessica and Emily who play the piano and love to perform. Triano has performed with singers such as Bryn Fon, Dafydd Iwan, Rhys Meirion, Gwawr Edwards and Robyn Lyn. They have also had the opportunity to accompany Gwawr and Robyn on the piano, and play a duet with Rhys Taylor, whilst he played the clarinet. Triano's debut performance for Haka Entertainment was at The Courtyard, in Aberystwyth with Gwawr Edwards and other local talent. In 2022 they had the opportunity to perform live on stage at the Urdd Eisteddfod in Denbigh. They have supported Ceredigion Music Services through performing at a Ukraine Fundraising event at Aberystwyth Arts Centre. In summer of 2023 Triano will perform at the National Eisteddfod in Tregaron, in two stage shows with Theatr Felifach, a choir performing in the Daniel Owen Award Ceremony.
Menna Rhys was born in Bethania, near Tregaron in mid Wales, where she still lives on one of the family farms. She is an experienced and accomplished accompanist and has been a regular accompanist since her early teens. She studied the harp and piano performance and accompaniment in the Royal Welsh College of Music and Drama in Cardiff. She is regularly in demand as an accompanist for soloists and choirs in concerts across the UK and abroad. Menna also works for the Ceredigion Music Service, where she gives piano and vocal tuition.
---
Finish every memorable evening singing Welsh hymns and old favorites.
Thursday-Sunday join in the late night
INFORMAL SINGING
for a traditional Welsh singalong and participate in merry making in a casual setting. Each follows scheduled evening events.
Open daily are the TEA ROOM, offering Welsh tea and Welsh cakes and an opportunity to socialize with friends new and old, and the MARKETPLACE.

V

endors from Wales and across North America selling Welsh and other Celtic items: clothing, jewelry, trinkets, music, books, tou

rs, educational packages and a genealogy corner to provide helpful advice in researching your Welsh roots.

If you are a vendor, reserve a table in the marketplace.
---
Affiliated Welsh Organization Round Table ~ This annual meeting is your opportunity to meet and share ideas with representatives from other Welsh organizations.

---
Say Something in Welsh Meet-up ~ Do you speak Welsh or want to learn yr hen iaith? Speakers and learners of all levels of Welsh are welcome to stop by and say "sut mae!" We will also host an informal Welsh chat sessions for learners and speakers of any level. Say Something in Welsh is a free online course based entirely on speaking.
See Schedule at a Glance for times
Created from the belief that language acquisition is a natural process at which anyone can succeed, it has no reading or writing components. Rather, through built-in revision, each lesson builds and expands on the spoken language skills taught in the previous lessons. Northern and southern dialect versions available! Use it online or download it to your favorite device, and make sure to spend time on the friendly forum where learners can get help and encouragement from each other:
www.saysomethinginwelsh.com.
---
Thursday-Saturday

Late Night Singing

~

with accompanist Karen Jones Wojahn

Late night

INFORMAL SINGING

to finish every memorable evening singing Welsh hymns and old favorites

following scheduled evening events.

Sunday Noson Lawen ~ with accompanist Karen Jones Wojahn

Join in for a relaxed evening to end the weekend's festivities. We will sing folk songs and enjoy short, open-mic performances by festival attendees.
---
Silent Auction ~ Donation form
An annual highlight of the festival is the SILENT AUCTION. If you have a "like new" Welsh item (or maybe an antique) and want to find a good home for it, consider donating it to the NAFOW silent auction. Consider items that will fit in someone's suitcase for the journey home. Popular auction items are books, household décor, framed art, Welsh woolens and more. Estimated value of each item should be at least $10.00.
Be sure to read the
donation form
carefully and fill out a separate form for each donated item that you bring to the festival.
If you bid on an item at NAFOW, be sure to check back from time to time. Enthusiasm for some items grows, and the competition can get fierce! Watch for the date and time bidding ends, and be sure to check back at the appointed time to collect your winnings! The Welsh North American Association benefits greatly from the proceeds from the silent auction.