Sunday Worship Service

No NAFOW pass is required

to attend the Sunday Worship service,

all are welcome

.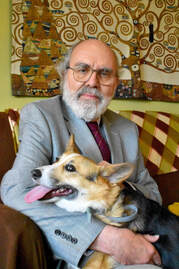 A
traditional church service in English and Welsh, which includes the reading of the roll of departed members and placing of memorial roses in the vases on the altar

.
The presiding minister at the Sunday Worship Service will be Rev. Robert Dayton, pastor of Central Presbyetrian Church in Tarentum, PA.
He has been the pastor of six Presbyterian churches( PCUSA) in Western Pennsylvania for the past 47 years, as well a spastor of Kowloon Union Church in Hong Kong. He is a graduate of King's College and Princeton Theological Seminary. He is the president of St. David's Society in Pittsburgh. He and Mary Lou Collins Dayton have been married for 52 years. They are the parents of two children and have four grandchildren. He is a puppeteer with many years experience doing puppet shows on World Folk Tales (including NAFOW) several times. They have three Welsh Corgis, Myfi, Meggy, and Gwynda..