Grand Concert ~ Cor y Penrhyn
Saturday, September 5, 2020 at 7:30 pm. Ticket Required, not covered by a NAFOW DayPass
Location: The Church of the Holy Trinity, 1904 Walnut Street, Philadelphia, PA 19103
Adult ~ $40 balcony - $50 floor / Students (18 and under or student ID) $10.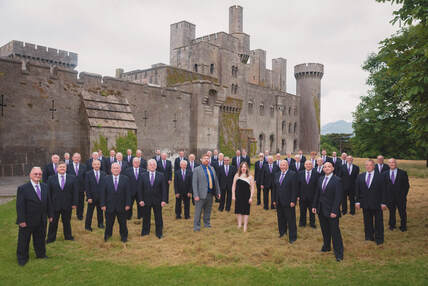 ~ Côr y Penrhyn
Côr y Penrhyn has its roots in the slate quarrying village of Bethesda in the Ogwen Valley which lies on the edge of the Snowdonia National Park, tracing it origins back to the 1880's.
The Penrhyn Male Choir is one of the busiest choirs in Wales with around 30 concerts a year, and has taken part in a variety of projects with other musicians, dancers and artists. This year they have performed at Penrhyn Castle, with the National Trust's resident artists.
Read more...
Musical Director ~ Owain Arwel Davies B.Mus M.C.G.I PGCE -
graduated with honours from the School of Music at Bangor University, was Head of Music at Ysgol Tryfan, Bangor and appointed Head of Inclusive Education for Gwynedd and Anglesey Education Authority.

As a diverse musician he has also performed and recorded with some of Wales' leading Rock and Pop Bands including Band Pres Llareggub, Anweledig and Steve Eaves. He has also gained high acclaim for his musical productions in Music Theatre, recordings and television productions. He has also performed and conducted various ensembles in many of our prestigious Concert Halls across the country. As a music teacher, Owain Arwel is well known in Wales for his qualities in nurturing and guiding talented young students, who have gone on to be professional musicians. Also as a highly regarded adjudicator, most recently at the National Urdd Eisteddfod that was held in The Millennium Centre in Cardiff 2019. In 2019, Owain Arwel celebrated 15 years as musical director of Côr y Penrhyn and under his direction; the choir has established itself as one of Wales' foremost vocal ensembles and is famous for its lively and exciting presentations.

~ Assistant Musical Director, Caleb Rhys Jones
Caleb was brought up in Gerlan, a small village above Bethesda. He attended Ysgol Abercaseg and Ysgol Pen-y-Bryn in Bethesda, before receiving his secondary education in Ysgol Tryfan, Bangor. Caleb studied History, Welsh and Music in the Sixth Form. He is currently studying for a degree in Music at Bangor University. Caleb joined the Baritone section of the choir back in 2013 aged 16, and thoroughly enjoys every aspect of the choir's busy schedule. He has graduated, with honours, in Music from Bangor University and has extended his studies of the voice by gaining a Masters at the Royal Northern College of Music, Manchester.

~ Choir Accompanist, Frances Davies M.A., B.Mus., Ph.D
Brought up in Dihewyd, Cardiganshire, Fran teaches at local primary schools in the area. She is also a piano teacher. She was victorious in the solo piano recital competitions both at the National Eisteddfod in Machynlleth and the Urdd national at Pwllheli. Fran is a life member, Music Ovate, of the Eisteddfod Gorsedd. Her bardic name being Frances Dalis. In 2007 she received a scholarship from E.S.R.C to study the use of language in Caernarfon. She gained a PhD in Applied Linguistics in 2013.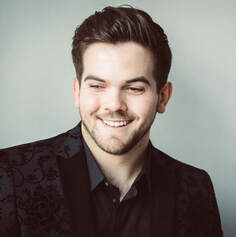 John Ieuan Jones

,
is a Welsh baritone from the coastal town of Rhos-on-Sea, North Wales. Ieuan's rich and versatile voice has made him a popular and in-demand concert singer, having performed throughout the UK, in Europe and the USA. 2018 highlights include sharing the stage with Sir Bryn Terfel in the opening show of the National Eisteddfod of Wales in Cardiff's Millennium Centre, performing at the North American Festival of Wales in Washington DC, and being a guest soloist at the Royal Albert Hall. In 2019, Ieuan performed in an opera gala at the Bridgewater Hall, was a guest soloist at Horwich Music Festival and performed in a series of concerts and workshops with Clonter Opera.
Ieuan has been fortunate to win numerous awards and scholarships including the Andrew Lloyd Webber Foundation Scholarship, and has had countless successes at National and International Eisteddfodau in Wales, having won the prestigious Osborne Roberts Memorial Prize the Blue Ribband.
Ieuan is a familiar face on Welsh television channel S4C, frequently appearing and performing on programmes such as 'Noson Lawen' and 'Heno'. Ieuan is also an accomplished harpist, having recently performed for the Prime Minister and members of the Royal family.