89th Welsh National Gymanfa Ganu
Sunday, September 6, 2020
Admission to this event is included in a Festival Pass or purchase day pass onsite, youth 18 and under are free
Location: The Church of the Holy Trinity, 1904 Walnut Street, Philadelphia, PA 19103

Afternoon session ~ 2:00 - 4:30
Intersession Meal ~ 5:00 - 6:30
Evening session ~ 7:00 - 9:00
Sunday afternoon and evening, join us for song and praise in this traditional celebration of congregational singing of Welsh hymns. Hymns will be sung in both Welsh and English in this, our 89th annual Welsh National Gymanfa Ganu. Don't forget to bring your Welsh hymnals. Hymnals will be available for purchase.
Director Owain Arwel Davies will serve as conductor for the 89th Welsh National Gymanfa Ganu.
Please note:
The Gymanfa Ganu will be held at
The Church of the Holy Trinity
, 1904 Walnut St, Philadelphia, PA 19103
, The church is a 10 minute walk from the DoubleTree by Hilton Philadelphia Center City.

A

restricted mobility shuttle bus

between hotel and church will be available
~ Fee charged, advanced registration required.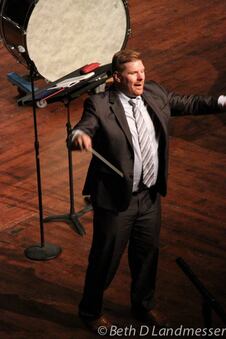 Director of the 89th National Gymanfa Ganu ~ Owain Arwel Davies graduated with honours from the School of Music at Bangor University in 1999, and was Head of Music at Ysgol Tryfan, Bangor from 2005. In 2017 he was appointed Head of Inclusive Education for Gwynedd and Anglesey Education Authority.

He has had the privilege of producing, and performing on numerous recordings, especially the choir's recent CD – GWLAD. As a diverse musician he has also performed and recorded with some of Wales' leading Rock and Pop Bands including Band Pres Llareggub, Anweledig and Steve Eaves. He has also gained high acclaim for his musical productions in Music Theatre, recordings and television productions. In 2013 and 2016, he was the musical director for the Welsh television (S4C) Christmas concert 'Carolau Llandudno' directing, arranging and conducting the music and the thousand voices that also included artistes such as Wynne Evans, Peter Karrie, Russell Watson and Sioned Gwen. He was commissioned and responsible for working on a new music production that was performed and directed by himself in the 'Bryn Terfel Theatre', as part of Bangor University's new Arts and Innovation Centre which opened in 2015.
Owain Arwel was recently invited to write and arrange the choral parts for Damon Albarn's (Formerly of Blur) new Album with 'The Good the bad and the Queen' where Côr y Penrhyn featured as a guest choir, which followed by performances in The London Palladium and Glastonbury Festival! He has also performed and conducted various ensembles in many of our prestigious Concert Halls across the country including The Albert Hall, Birmingham Symphony Hall, The Donald Gordon Theatre and St. David's Hall in Cardiff.

As a music teacher, Owain Arwel is well known in Wales for his qualities in nurturing and guiding talented young students, who have gone on to be professional musicians. Also as a highly regarded adjudicator, most recently at the National Urdd Eisteddfod that was held in The Millennium Centre in Cardiff 2019.

In 2019, Owain Arwel celebrated 15 years as musical director of Côr y Penrhyn and under his direction; the choir has established itself as one of Wales' foremost vocal ensembles and is famous for its lively and exciting presentations.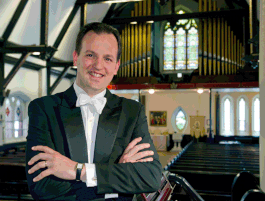 David Enlow ~ Festival Accompanist
Hailed for his "enormous virtuosity" (Stuttgarter Zeitung), "arresting performances" (The American Organist), and his "gutsy, yet sensitive" playing (Organ Canada), David is a concert organist and church musician who has performed across the United States, in Canada, and across England and Europe. His recent recording of the complete major organ works of César Franck on the Pro Organo label, Pater Seraphicus, has been well reviewed, notably in the French language press. Mr. Enlow is Organist and Choir Master of the Church of the Resurrection in New York, where he directs a professional choir. He is a member of the organ faculty of The Juilliard School responsible for the service playing component of the curriculum, and also Dean of the New York City Chapter, American Guild of Organists.